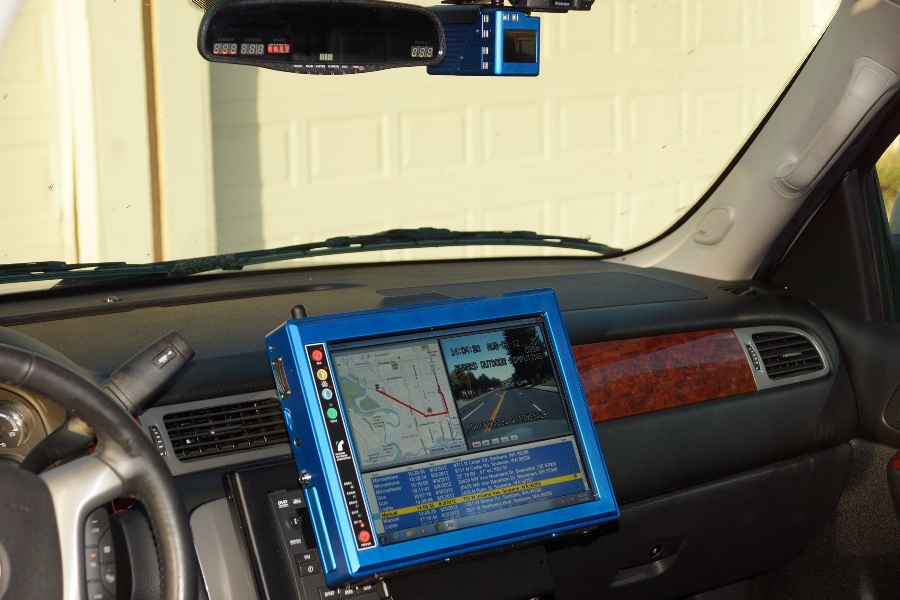 After consulting with many law enforcement agencies, analyzed our competitor's strengths and weaknesses, forecasted future trends and have developed a system that integrates all of the major requirements a field officer needs to effectively and efficiently perform his duties. We have focused specifically on Public Safety, positioning our product to be best-in-class with the following partial list of features:

Powerful Windows-based PC in air-bag compliant enclosure.

Integrated Wireless technology including GPS, WAN, WiLAN, Bluetooth and USB, so no external devices required for any communication requirements
Ignition-sensing filtered Intelligent Power Management system with battery charge guard and rechargeable Lithium-ion short run battery backup to satisfy demanding and uncertain vehicle power.
Active filtered cooling for extreme operating environments, not available in Notebooks.
Optically enhanced, capacitive touch, high-bright, sunlight readable 12" LED display for unsurpassed viewing in all lighting conditions.
Fingerprint sensor, lockable removable HDD, internal Flash memory back-up for security management.
GPS input feed tags for video capture but are also available for use with dispatch vehicle tracking and management systems.
Sub-10 minute replacement for entire system.
Second Linux-based computer to manage full-screen, DVD quality, proprietary video/audio capture system, with internal dedicated Gigabit Ethernet connection.
PIP (Picture-in-Picture) technology for instant and seamless switching between video and PC, providing protection in the event a sometimes unstable Windows platform crashes.
Integration of up to 5 vehicle inputs user configurable status indicators/triggers including vehicle speed, time , location, light bar and siren status, gun lock, radar gun readings, and more, into video capture stream and display using OSD (On-screen Display) technology to be used for chain of command evidence for legal verification and processing.
Internal storage of up to one-week video capture for secure video/audio management.
Proprietary video system linked with Google maps that traces vehicle rout. Click a spot on map and video replays from that location... truly unique. Also includes dropped substance tags for quick logging and easy backtracking for retrieval of footage and location.
Multiple camera feeds, 4 wireless microphone synced with video, etc.
Wireless transmission of live or captured video on demand during high risk incidents via peer-to-peer wireless network..
Field Replaceable, lockable video/audio data storage devices, solid-state or SATA drives.